These days, democracy seems increasingly under fire – Freedom House says it's declining globally – and now, global stability and peace is severely threatened by the long-ruling autocrat in Russia. What's next in Democracy?
The Ukraine/Russia war has given me a painful reason to think deeper about the my main 2022 topic, The Good Future. While some autocrats seem hell-bent on destroying stability and ending the long-lasting peace in Europe, democracy appears to be in decline for the last decade, globally (read the Freedom House report, or browse my 'GerdFeed' links on democracy).
Where is this going? How can we rekindle democracy and fix what is lagging? What's wrong with how we design and implement democracy, right now? And what's the role of technology (like social media) in all this?
In my view, the Good Future is almost synonymous with Democracy – so this is a very big topic for me. I am preparing furiously for this event and would love your feedback / input until we meet for the show (just go here to send your stuff, or ping me via twitter using the #gerdtalks tag).
This is obviously a hugely challenging topic, especially given the current circumstances in the Ukraine. I am hard at work finding some good morsels and realisations to share with you. In the meantime, here are some teaser statements to get you thinking until we meet.
While on the one hand many autocrats and populists have hung on to and even expanded their positions during the past 2 years, 74% of people living in countries run by autocrats are severely disenchanted and dissatisfied (read more here). I think these sentiments will turn into action everywhere, in 2022. Things will probably get worse before they get better, though – and that's the scary part.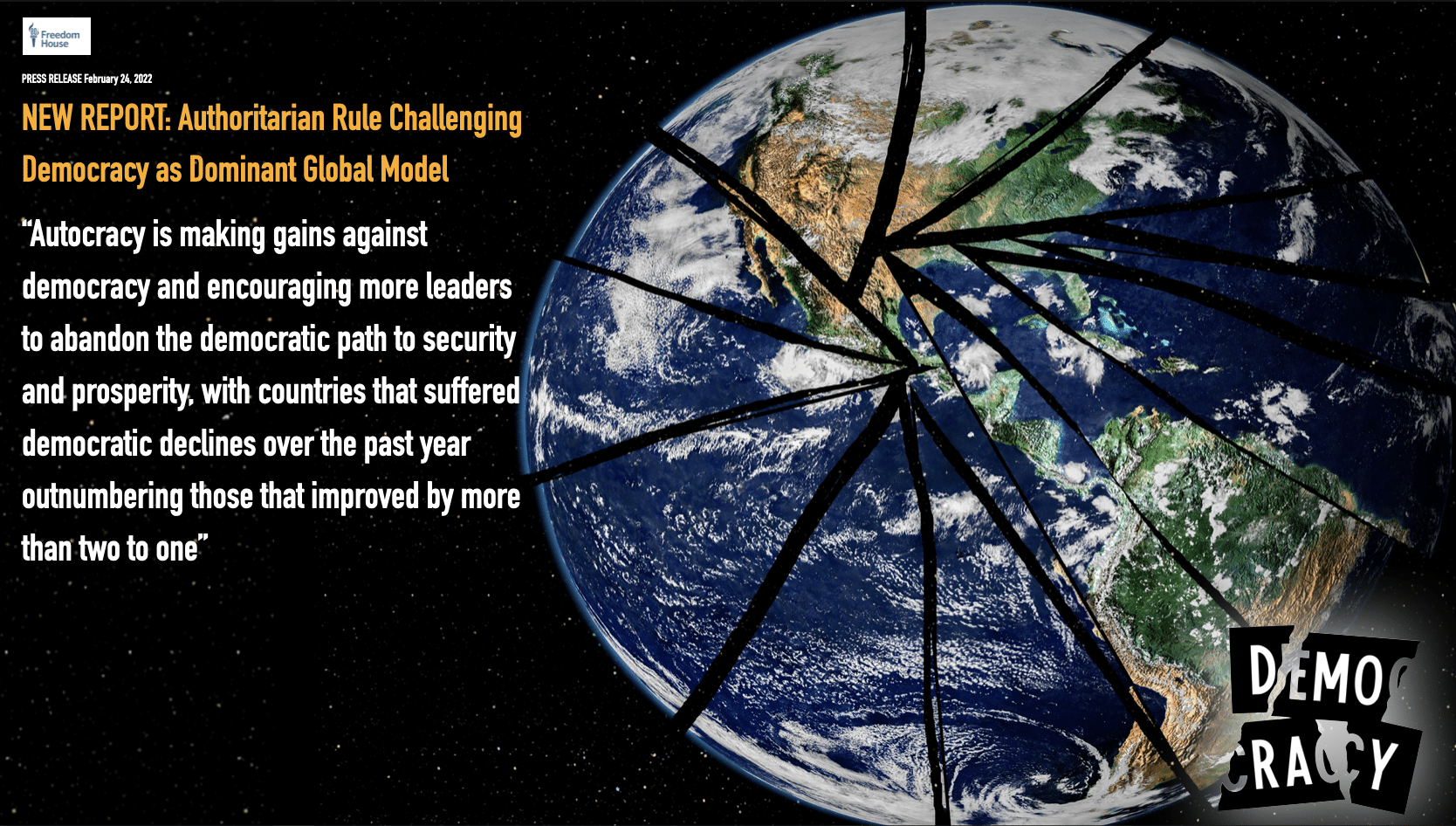 Democracy isn't an institution – it's a practice, and it becomes stronger through use (Jeff Sparrow)
What I have been calling 'The New Human Renaissance' (i.e. the rising importance of Humanness and HI – Human Intelligence, as opposed to machine intelligence / AI) will also propel a renaissance of democracy, imho.
I believe that one of the chief reasons for a decline in the overall well-being of democracy is the rise of algorithmic media, i.e. social media that emphasises bad news and spreads it very quickly using lousy, reductionist algorithms that are designed to deliver more eyeballs to advertisers. This needs to end: Social Media must be rebooted with HUMAN interests in mind.
We also must remember that democracy's apparent 'decline' in the past 15 years coincided with a lot of tough challenges such as the 2008 global financial meltdown, the Syrian civil war, a global refugee crisis, a worldwide public health emergency, and now the first war in Europe since WWII. People have been through a lot, and it shows…
In this episode NEXT MONDAY March 14, I will first offer a 15 minute presentation on the future of democracy, and then I will take questions and comments from the audience using Youtube and LinkedIn comments (be sure to be logged in:)
The event will live-stream on 7 platforms including Youtube and LinkedIn and Twitter @gleonhard – not on Facebook:) You can also be notified on Youtube (just hit the bell:) or sign up on LinkedIn here
Watch the previous episode on "The Future of Work" below, and go to GerdTalks.com for more details on the series in general.