Announcing the launch of TheGerd.AI: Now you can ask Futurist Gerd Leonhard about his work and get instant answers using GerdBot
For a long time now, I've received emails and messages daily about my work and topics. Almost always, the answers are already contained somewhere within my many writings (see Forbes, Medium) videos, books and shared feeds – but they're hard to find and difficult to remember where exactly to point people.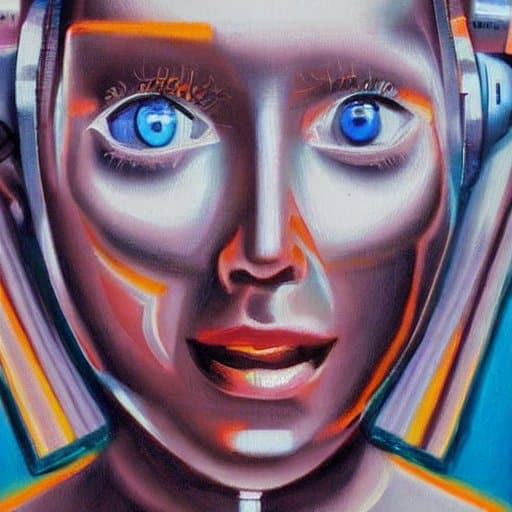 So, now that powerful LLMs such as ChatGPT have become available, I figured it should be possible to feed all my books, posts, blogs, and other content into a clever algorithm. Maybe, it could provide some snappy and ingenious answers "on my behalf" (well, yes… I know that's a tall order)… or even hallucinate a bit as to what I could have, should have, or might have said. A kind of GerdBot, if you will.
Then, in May 2023, I was very fortunate to meet the amazing developer and VC Stevica Kuharski at FutureTense 2023 in Zagreb, Croatia. He immediately understood what I wanted and offered to develop the tech for me. Stevica had both the vision and the technical skills to make this happen.
Today, Stevica and I are really pleased to unveil TheGerd.ai aka GerdBot, a sophisticated web application that leverages cutting-edge AI technologies to facilitate seamless access to my extensive digital archive from the past 12 years.
Please give it a try and let us know how you like it. Some answers are truly amazing – even for me.
Says Stevica Kuharski:
"Powered by cutting-edge methods like latent semantic indexing and text/document parsing, GerdBot can navigate a wide range of content, including blog posts, web pages, shared items on GerdFeed, Gerd's best-selling book "Technology vs. Humanity," his hundreds of YouTube talks and films, and his slideshows and my writings.
GerdBot's architecture boasts a scalable infrastructure designed for efficient information retrieval. The system utilizes modular components, enabling seamless interconnection between various content sources and thereby providing users with a comprehensive exploration experience. Leveraging high-performance inference servers, GerdBot ensures swift and accurate responses to user queries, enhancing the overall user experience.
The orchestration of GerdBot takes place at llm-orchestra.ai, a versatile platform that can be configured to operate as either a public or private service. This flexibility empowers users to tailor the application to their specific needs and preferences while maintaining a focus on privacy and security.
"I am honoured and delighted to collaborate with Gerd Leonhard on this groundbreaking project. As an enthusiast of Gerd's visionary ideas and profound understanding of the future, it is a privilege to contribute to the development of GerdBot. By combining my technical expertise with Gerd's unparalleled wisdom, we aim to create an unparalleled platform that brings his transformative insights to a broader audience. This collaboration exemplifies our shared commitment to fostering a more in-depth understanding of the profound impact of technology on humanity and empowering individuals to navigate the complexities of the digital age. Together, we are excited to embark on this journey and invite you to join us in exploring the frontiers of knowledge with GerdBot".
Soon, GerdBot will not only serve as a gateway to my digital universe but will also foster a vibrant community of knowledge seekers, connecting users with like-minded individuals who share a passion for exploring the intersection of technology and humanity. GerdBot might just revolutionize the way users engage with my content – stay tuned!
PS: this announcement was 100% written by HUMANS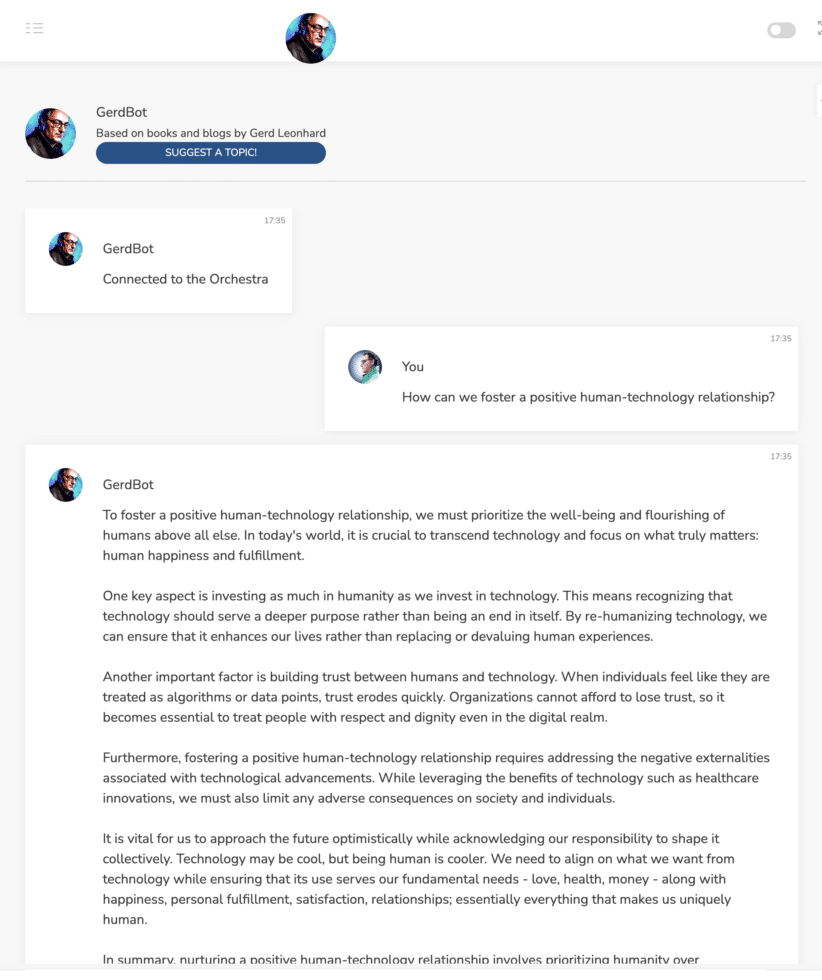 Don't let the bots take over (this is what happens when they do, below:)